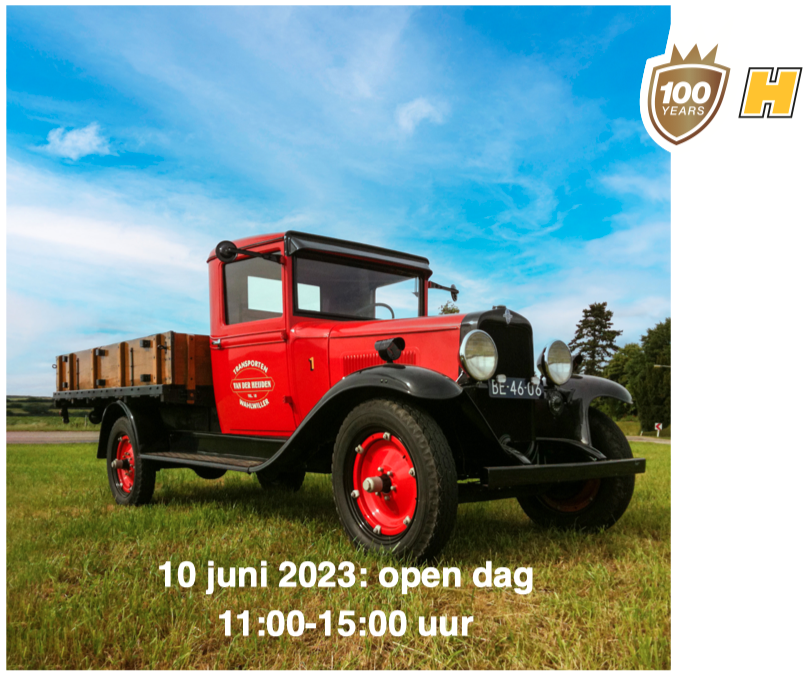 Anniversary Celebration: Come and Celebrate Our 100-Year Milestone on June 10th!
Hooray! This year is the year, we're celebrating an impressive 100 years! And we're not letting it pass by unnoticed. After our move from the idyllic village of Wahlwiller in the Limburg Hills to our beautiful new location along the A76/N281 in Hoensbroek, we're fully settled and ready to celebrate in style. And you're invited!
On Saturday, June 10th, 2023, we'll open our doors for a day filled with fun and wonder. Visitors will have the unique opportunity to tour our brand-new building, meet our team in person, and get a glimpse into the fascinating world of our logistics services. We have special activities planned to celebrate our 100th anniversary, ensuring there's plenty to experience for both young and old!
As a family business, we're incredibly proud of this special milestone. We would love to celebrate it together with you, our valued customers, suppliers, and other enthusiasts. It's an excellent opportunity to showcase what our company stands for and share our excitement for the future with you. We remain committed to improving and expanding our services, ensuring many more successful years ahead.
J.H. van der Heijden Internationale Transporten has been operating as a leading transport company since 1923. Over the past 100 years, we have achieved a significant position in the industry, particularly as specialists in transport to and from Switzerland and exceptional transport. Our experience and expertise make us the ideal partner for all your transport needs.
The open day will take place on Saturday, June 10th, 2023, from 11:00 am to 3:00 pm. We warmly invite you, your friends, family, and colleagues to join us in celebrating this special anniversary. It will be a party to remember, so make sure you don't miss it!
If you have any questions or would like more information, please don't hesitate to contact us at +31 43-4511215 or send us an email at info@vdhcargo.com. We're ready to assist you.
We're incredibly excited to celebrate our 100th anniversary with you! See you on June 10th!
Best festive regards,
J.H. van der Heijden Internationale Transporten B.V.
The Swiss way.
Our passion. Our drive!